Hello, Shalom, Namaste, Hola,
Thanks for taking a look at my site, and seeing what it is all about.
Pause for You, LLC (formerly Roswell Massage & Reflexology) was created out of the need to help Restore the Calm and bring balance back to who we want to be. With depression, pain, stress and anxiety being so widespread, Pausing helps us remember who we are and what we love about being alive. Sometimes Pausing is natural and automatic but sometimes we have to Plan for the Pause. With Pause for You, LLC, it can be done in two ways:

- 1 -
Points of You® Facilitation
(Learn More)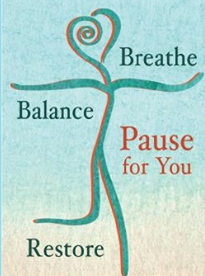 - 2 -
Massage Therapy & Bodywork
Especially for Women
(Learn More)

Pause for You, LLC was conceived to help women of all ages learn to create their own personal retreat so they can develop a path to Restore their own Calm.
What does Pausing mean?
Pausing means carving time out of your day to slow down or stop and be present in your own life in a way that truly supports your wellbeing. It allows you time to think, feel, experience and become aware of where you are in the present moment, to contemplate where you have been and where you want to go.
During the Pause is where your body, mind and soul can flow openly. It can help us integrate what is happening in our lives and consider new ways of being including better choices, better decisions and helping us look at new ways of improving our relationship towards ourselves and others.
Points of You® Sessions
♦♦
Customized Massage & Bodywork for Women including:
♦
Holistic Massage
Neuromuscular Therapy
Reflexology
Menopause Massage (coming soon)
Compassionate Touch®
Grief Massage
♦
To Help With:
Stress Reduction
Pain Management
Anxiety
Depression